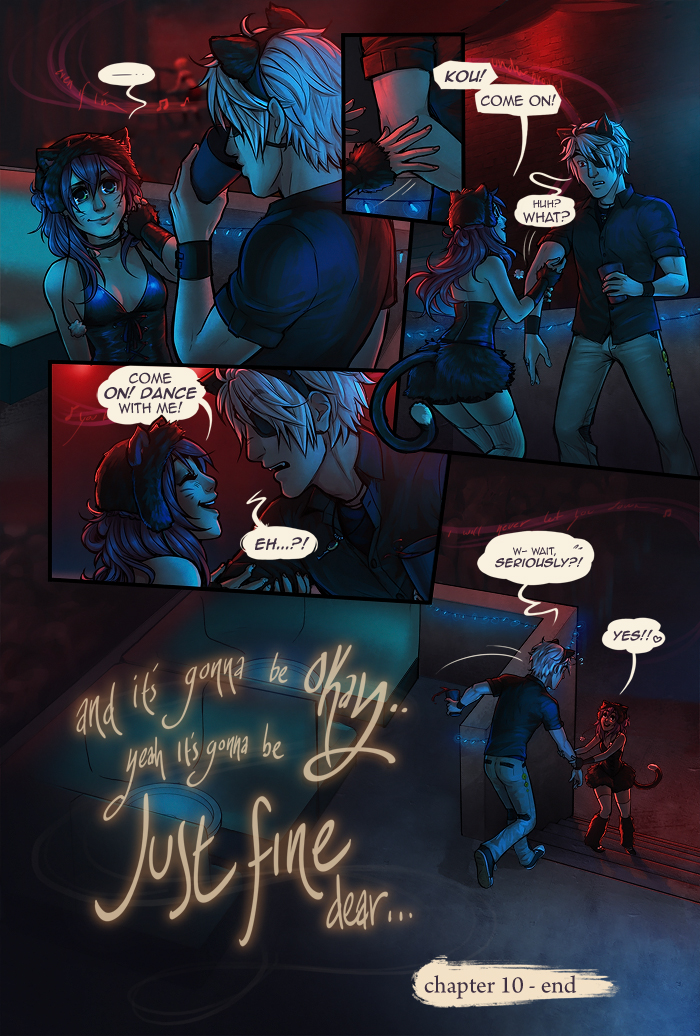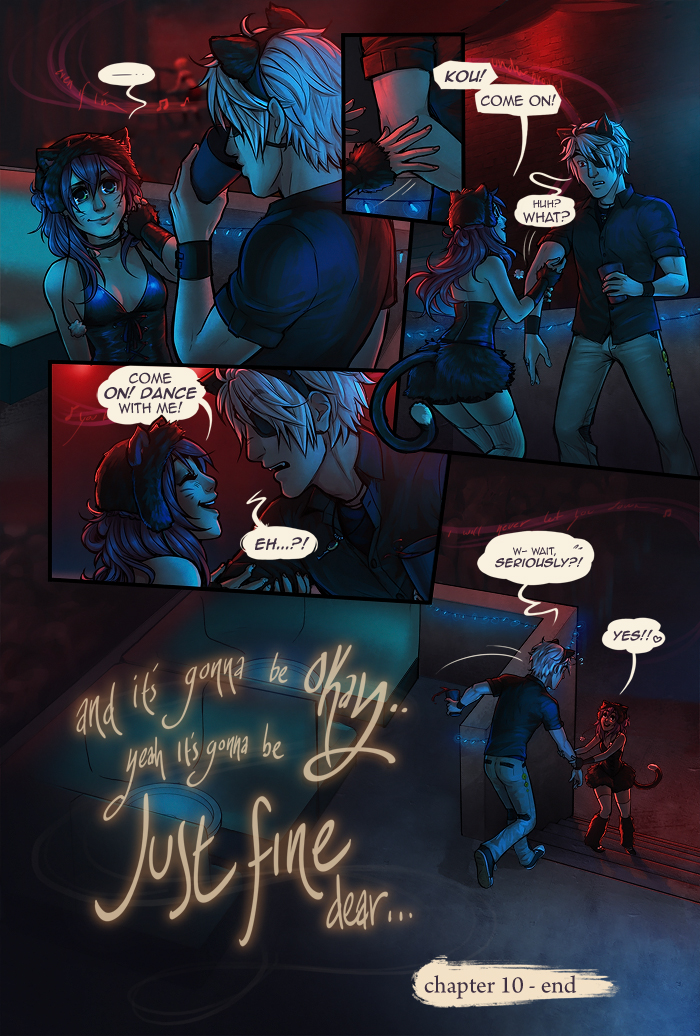 chapter 10: page 28
2015-10-19 17:56:53
--VALENTINE'S DAY EDIT--

AWWW YAAAAAAAAS i did the thing too
[only click if you're ok with nudity -- charas are milla and rylie. we meet milla in ch15 or 16...forget which. based on a really
old RP doodle from 2005
]
my main monitor broke at some point so i had to do this mostly greyscale cos i don't really trust how my colours look on the web thru my cintiq screen xD
Please check out the other participants:
Vas n' Ram -
3 Dangly Bits
| MonicaNG -
MoonSlayer
| Nick Greaves -
The Great Isle of Prentil
| NoiV -
The Secrets of the Afterlife
| Emy Bitner -
Trying Human
| Hiro Odan -
Bridge University
| Jackarais -
Bicycle Boy
| Krazy Krow -
Spinnerette
| Nunc Dimittis -
Res Nullius
| Rd Ashes -
Dyerin's Line
| Amy Letts -
Epic Fail
| Ebenezer Splooge -
Portcall Uranus
| Ebenezer Splooge -
PronQueens
| Ebenezer Splooge -
Mammazon
| Ebenezer Splooge -
Hentai Poster Company
| Ebenezer Splooge -
Magical Virgin Princess Training Academy
| Ebenezer Splooge -
PronQuest
| Andrew Hunter -
Delve
| F. T. Benjamins -
Winners and Losers
| Dave Barrack -
Grrl Power
| Mike Aston and Shaun Nicholls -
Lacey Investigations
| Captaingerbear -
Grant
| Niauropsaka -
Raspberry Rain
| TK Doherty -
Nikki Sprite
| Lou Graziani -
CyBoar
| Mark Egan -
Bata Neart
| Mark Egan -
Back Office
| Spaces and Tempo -
Yestergirls
| Jeremy Begin -
After the Dream
| Heather Meade -
dream*scar
| R(ed) -
Meiosis
| argylefox -
Indifferently Evil
| jeromatic -
Jeromatic Tales
| jeromatic -
Bunny Wiggins
| Zach Vanzile -
West Tree Academy of Heroes
| yellowgerbil -
Zoe the Vampire
| Asmodeus -
Exorcism Academy
| John Harrington -
The Savage Sword of Sharona
| Sean Harrington -
Spying With Lana
| Peter Anckorn -
By The Book
| Alli Perry -
Out of My Element
| Caley Tibbittz Collopy -
Eternal Knights
| Byron Wilkins -
1977 the Comic
| Kami -
Get Your Man
| The Blood Teller -
Alvery Nerveaux's Secret Case Files
| Vas Littlecrow Wojtanowicz -
Velvet Rasputin
| Bearalzebub -
Devilbear: The Grimoires of Bearalzebub
| Stef Marcinkowski -
Sarah Zero
sorry to post this late, i've been sick xD;;; //goes back to bed lol...
--end vday edit--
--edit 02/01--
Posting to let y'all know that's a thing! Click the image to go to the apply page, and feel free to check out the rest of the SF site! Feel free to shoot questions my way about it as well :'D
Also -- working slowly on thumbnails ... currently only on page 7 ._.;; but thumbnailing is the slowest part of making this comic @_@ I wanted to get to page 10 before i started to work on inking and finishing any of the pages but I might just push it up a bit so I can get to updating sooner xD;
Full disclosure tho, I signed up for a Miraculous Ladybug fanzine and managed to get in. Deadline is in a couple weeks, so I've been alternating days working d*s and working on that. xD so it's slowed me a bit lol. [also app season here might slow me too...I CANNOT WIN 8D]
Anyway keep an eye out as always. Sorry for the overly long hiatus ;0;
--end edit 02/01--
--edit 01/04--
Hey guys! Sorry to be so silent! Just dropping by for a not so great update -- work has been really stressful on the hubby, so he's not gotten much of a chance to work on the new layout. I'm thinking I'll start the new chapter/volume without the new layout, even tho it pains me cos the new layout is cool as shit, and it's been tradition to start each new volume with a new layout... sigh ;0;
Anyway I will update here again when I know an exact date. I am still plugging away at various things that you can peek at on
patreon
... but now that I've decided this, I am focusing solely on the thumbnails again. I hope to start updating before the end of the month. Keep an eye out :)
--end edit 01/04--
--edit 11/16--
I mentioned it on facebook, but I should post here too --
I am aiming to return to updates in January,
along with a new website with things y'all have been asking for, and some things you haven't LOL. I have the layout 100% mocked up now and I'm nearly done with the new content for it.
The other things I've been doing with my time [aside from getting super sick for a week there] have mostly been print edits. If you're on patreon, you got some looks at a page split I was doing for chapter 3... [turning 2 pages into 3] that has taken longer than expected, since i had to create a lot of new art for it and trying to match my old style a bit...is hard :P I have one more page split in the same chapter I intend to do [but just one page into 2 for that one], but I might not get to it this break, since I wanna get crackin' on thumbnails for chapter 11... //excite 8D!!
Anyway, yeah, keep an eye on FB for more updates, but I should be back in January, as long as Josh gets the site up and running by then. :) See y'all then!
--end 11/16 edit--
WHOO CHAPTER 10 IS DONE. And hey! This is also the end of Volume 2!! Which is why I have those big shiny lyrics plastered on the last panel. It's cheesy but it's a thing I planned to do for the end of each vol xD [i did it for
the end of volume 1
as well] The lyrics used here are from Rufus Wainwright's 'Bitter Tears', which Leitbur actually
did a remix
of! Figured since this whole chapter had a Leitbur theme, I'd stick to it XD
But yea. Vol 2 in the bag!! Whoa! But....I still haven't gotten Vol1 ready for print....fml. But I hope to get more work on that between this chapter and the next.
Sooo yes, I'm doing another mini hiatus before starting chapter 11. I'm still reworking the script a little... I made some last minute changes to one of the charas introduced in it, so I'm just trying to make sure it hasn't effected her scenes too much xD; So far, it's only been some minor dialogue tweaks! Whoo!
SO! During the break, I plan to work on:
- Script revision [i have all of vol 3 scripted but some parts need polish]
- Thumbnail buffer for chapter 11 [having a thumbnail buffer helps me spot mistakes/flow issues]
- New website layout/backend updates [there will be top of page navigation for the comic this time, i swear omg]
- More vol 1 print edits [left off in chapter 3 last break]... we'll get to that kickstarter eventually 8DDD [but probably not during this break lol]
Regarding those print edits: Thankfully once vol 1 is done, the edits will go muuuuch faster. Vol 2 wouldn't need much work, just minor dialogue/art tweaks to fix anything that really bothers me/doesn't come off clear enough. I'm not sure if I talked about it, but vol 1, the dimensions are waaay off, so I am having to patch up a lot of empty space, and adding in enough room for trim/bleed, which is why it takes so long to edit... also the fact I don't touch print edits while I am working on new content for you guys. xD; My priorities are probably really wierd but I like posting new pages more than making money off my work apparently e___e;;;
I'll be updating my Patreon while the hiatus is going on with a lot of hte stuff mentioned above [clips from the print edits, thumbnails as I scribble them out, etc etc]... so keep an eye on that if you are a patron :D [but also feel free to lower or pause your donations while the hiatus is going on, i won't blame you!]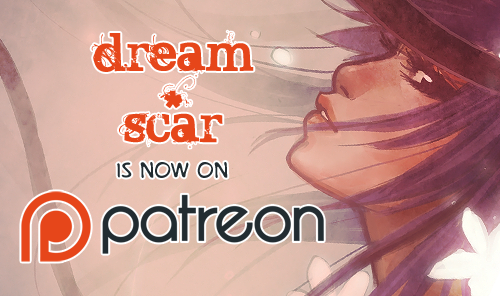 ANYWAY... yeah. This break will probably only be about a month or so? maybe longer if the website upgrade/revamp takes longer than anticipated... I'll let you guys know on all the social mediassss, but I'm most active on the d*s facebook page [tho i am trying to get better wtih twitter again]. You might have more luck seeing updates about the comic by turning on notifications, like so:
[tho i'm told facebook has started messing with this method as well...]
See y'all after the break!
Ways to contact me during the hiatus:
email
(responses will come from my gmail account)
facebook
tumblr
twitter
SF forums
[or just post a comment below cos i'm still around lol]
Current Incentive:

To celebrate the end of Volume 2, here's the chapter 8 thru 10 art comparison between 2003 doodles from the notebook where I wrote d*s, compared to the comic counterparts...along with notes about the changes I made. Good times!! If you missed the old ones, here's the old ones:
volume one
|
chapter 7
----
PIMPAGE TIME:
First up, here's the last 2 batches of Spiderforest newbies, cos I am going to miss the final week @_@ But please give these guys a look too! [i'm shamelessly stealing these descriptions from delphie lol]
True Magic
-- Fantasy/Comedy. True Magic follows a band of commoners who've had it with being mistreated by their magical noble overlords, and sneak into the imperial capital to try and change things. But bumbling into strange conspiracies and magical traps seems to be their specialty, and not even their fabulous hair seems to be helping. =(
Ball and Chain
-- Post-Apoc. Ball & Chain is about a mutant gladiator and a pickpocket with a stolen pair of shapeshifting gloves in gritty post-nuclear Canada. On the run from their family, they stumble into the care of The Agency, a refuge and training center for other mutants.
Accursed Dragon
-- Fantasy. Accursed Dragon is the story of a dragon-man named Coven trying to recover his humanity after a terrible curse. As he makes enemies and allies, centuries-old conflicts and magic brew beneath the surface of the warring lands.
Out of My Element
-- Steampunk/Fantasy.
TDUGN (The Drako Universe Graphic Novel)
-- Fantasy. TDUGN follows a mysterious child from another world who falls into the care of the leaders of the Draga Empire... and a deadly political struggle.
Castoff
-- Fantasy. Castoff is about a lonely kid secluded away in a bookstore with gold glowing eyes. He's always wanted to get out, make friends, and see the world... and when a magical bounty hunter finds him, he might get the chance! Y'know, if he doesn't get killed first.
--
Secondly:
CHIRAAAAAAAAULT!! KICKSTARTERRRRRRRRR!!! It's entered it's final days, and I have a mighty need for it to reach that sticker stretchgoal!!
[for the record, here's the awesome shit i got from vol 1's kickstarter!]
[see? it had stickers! awesome goddamn stickers!!! i must have another set!!!!]
--
AND LAST BUT NOT LEAST, GUISE LOOKIT THIS KIX FANAAAAART:
hnnGgggg. I thought this was really awesome cos it takes in a lot of symbolism from some of my side/concept art in pretty damn cohesive manner xD Thank you again, Elsa!! Check out her comic @
Lucifer's Playground
~