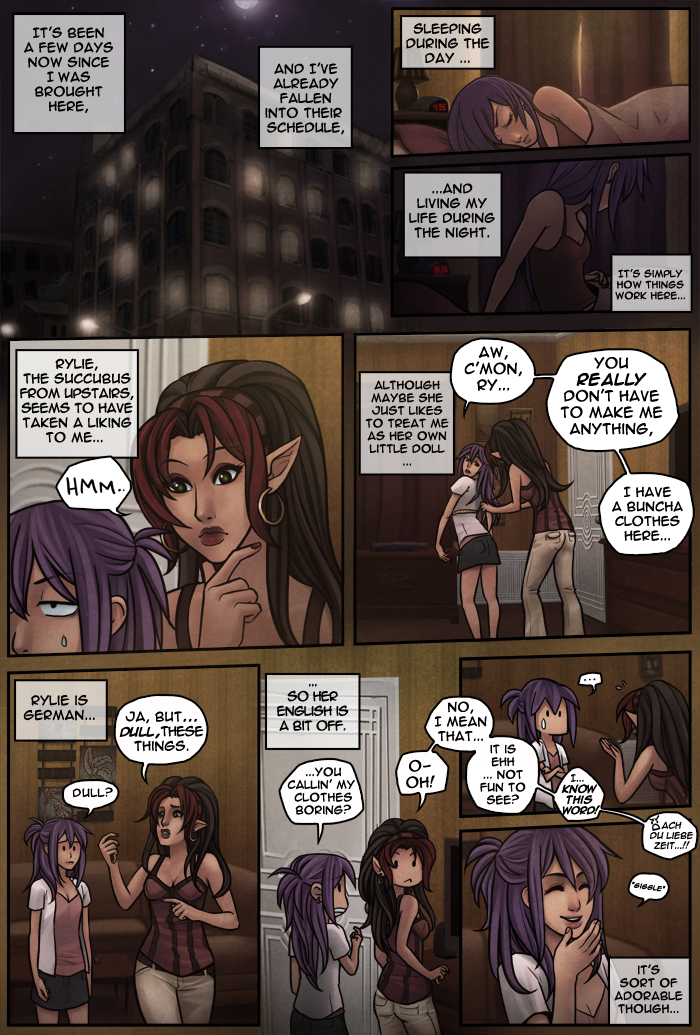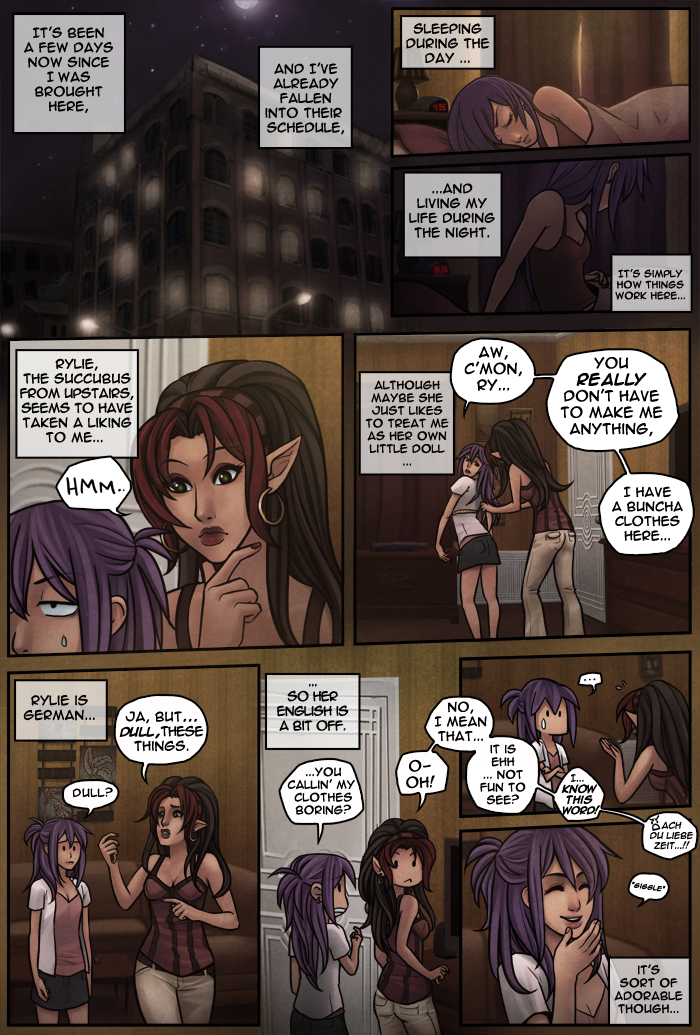 chapter 5: page 2
2010-08-26 20:37:25
We officially meet Rylie =)

By the way, if I have any actual German speaking readers, let me know if any of her German seems a bit off xD She uses it a lot, but I honestly only know what little I learn off the net xD;

Anyway, MANY UPDATED THINGS TODAY!! First off, I updated the Character Page with Rylie and changed a couple of portraits.

I've also added new songs to the YouTube Playlist -- 'Cosmic Love' by Florence + The Machine, 'Special Death' and 'Mt. St. Helens', both by Mirah, 'Any Day Now' by Bif Naked, 'So Far Away' by Stabbing Westward, , and 'Ordinary Life' by Kristen Barry [holy shit this is finally on youtube].... and then, 'Asshole' by Denis Leary -- Lysander's theme song. Also, can you tell I based Lysander off him? LOL

Anyway, check them out when you get a chance xD

ALSO:
FANART!


GASPU, KOU WITHOUT SHADES!! I swear he does eventually stop wearing them, guys. xD This pic is done by my buddy Nina, who is totally one day gonna be my sis in law, I bet 8D [get crackin' jer.] You can find her DA right hurr.

I've also added more fanart to the extras section aside from this...but am too lazy to link it all. I found a buncha fanart I had forgotten to post lol... there are 6 brand new pics total tho. Most of it is stuff from Raiy lol xD God I love her.

ALSO!!! AGAIN!!! xD I made an 18+ section for hentai-fanart type stuff, cos I do get that from time to time AND I LOVE IT. Tho I can't find much of it right now, so all you get for the time being is some Kou/Ry action from my homie g Raiy.

Whew!! *passout*


Current Incentive:



A thumbnail sketch for a page on chapter 5 -- I DARE EVERYONE TO COME UP WITH THEIR OWN DIALOGUE FOR THIS. DO EEEEEEEEEET and then show it to me for the great luls.





next update: fri, sep 3rd
forums || deviantart.