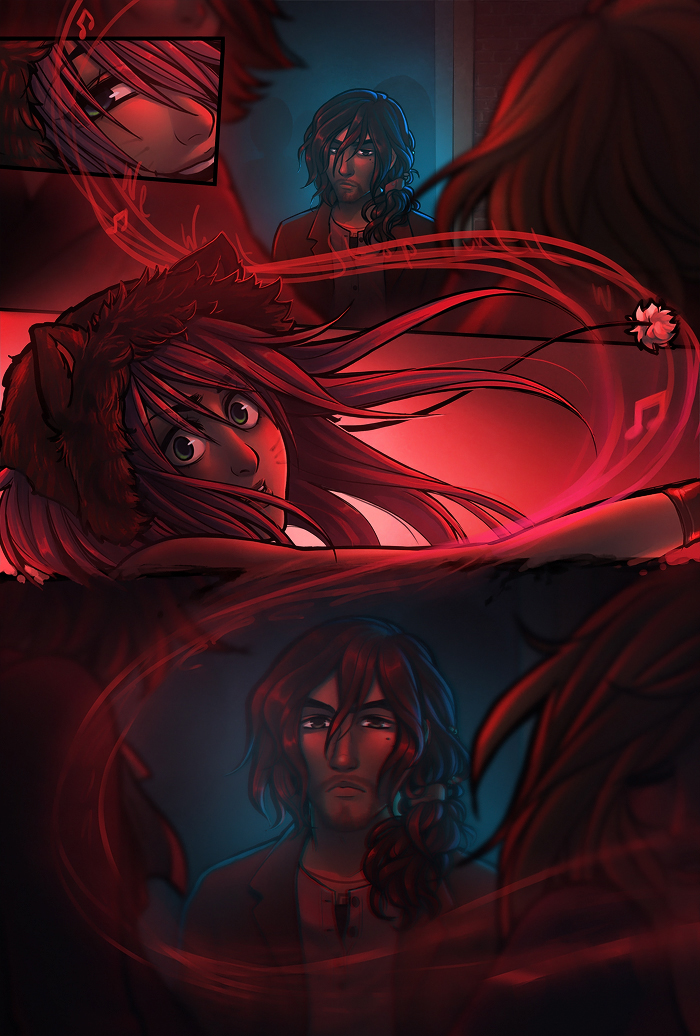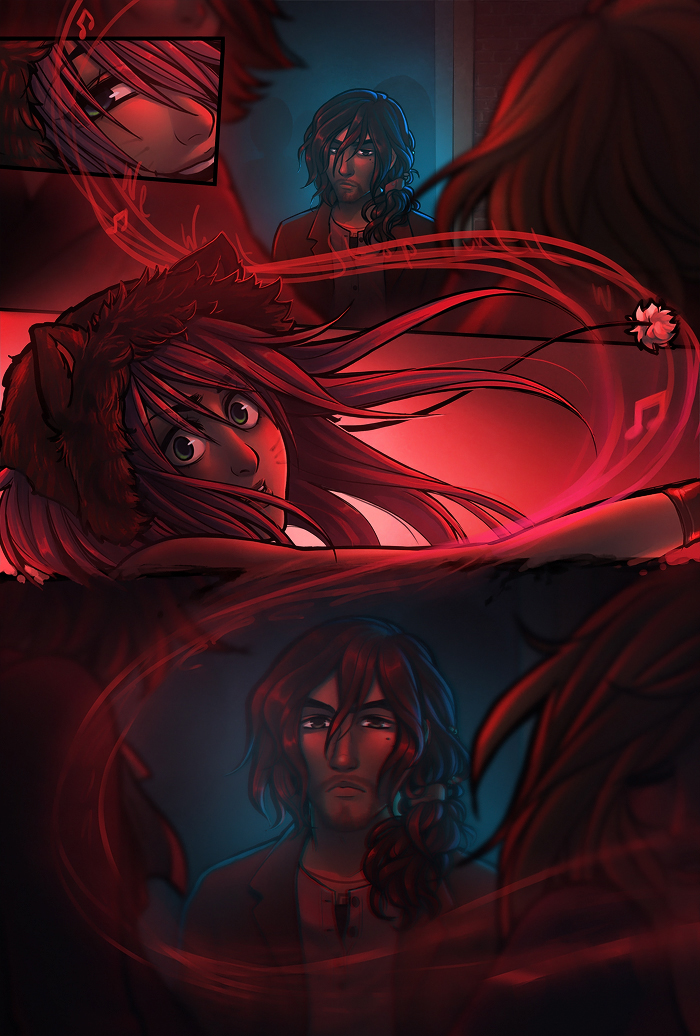 chapter 10: page 21
2015-03-05 18:52:34
7/22/15 -- hiatus ending ...soonish~
sorry i don't have a set return date, but i'm finally done with that commission that was holding me up. with my wrist issues apparently a permanant issue, my schedule is gonna be really wonky. but i'm back on the ball in any case! expect a new page within the month :)

in other news:


WEBCOMICS CREATORS -- GET READY FOR IT!

----


5/29/15 -- yet another wrist update / d*s 6 year ani
yesterday was d*s' 6 year ani... i just realized that. oops. HAPPY 6 YEARS, DREAM*SCAR.


yeah, it's a birthday gif...LET ME REUSE MY SHET OK


...soooo yeah. shortly after the previous wrist update, i had another freaking flare up lol. i ended up avoiding the computer completely for over a month and now my wrist is mostly back to normal, tho it still has days where it decides to be a butt out of the blue. i finally started drawing a bit again this week, but very small amounts, and i'm limiting myself to about and hour or so every other day for the time being. just taking it easy. these past few couple months have been really hard and i don't want to go through that again. i don't want to have to think about a future without art like that ever again. it was scary.

anyway, i'm currently working on finishing a commission that was started before the hiatus...that is taking priority at the moment. once it's done, i'll finally get to start working on the comic again. but with this pace, it will not be updated every friday anymore. i'm pretty bummed about this. i've been pretty proud of keeping a weekly schedule for the past 6 years xD like, 6 years of consistent updates and one baby hiatus? [and now a wrist hiatus too lol] but i think it can't be helped... i can't draw like i did when i was younger anymore :(

i'm really sorry about all the delays. i think most of you know i love my comic to death and i'll do anything to see it through. it'll be slow, and i'll prolly lose a lot of readers because of that, and i won't blame them at all, but i hope those of you who really love it as much as i do will be able to stick with me...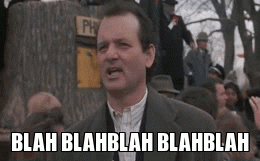 anyway, thanks for your patience, as always.... and as always, check the facebook for the latest news, since it's the easiest place for me to update from my phone.


4/17/15 -- wrist update
if you guys haven't kept up on facebook, figured i'd post here that my wrist is doing better. i'm working on the comic, but slowly, so i don't have more issues. not entirely sure when i'll be back but i wanted to let you know i'm slowly getting back into the art routine... thank you so much for being so patient while i recover :'D i think i am not being naive when i say my readers are really the best group people ever. xD //love@y'all foreverrr

i also wanted to post an update here so i could plug my friend's kickstarter for her webcomic, sombulus!


which i've been waiting for since freakin' last year!! it's a print run to fund vol2, but you get the option of getting vol1 instead [or both] if you are new to the comic :) sombulus is a really feel good comic, i think. it's very witty and fun. def worth your time and if you can, help fund the kickstarter -- if you can't, consider helping spread the word about it! you can reblog it on tumblr, share from facebook, or retweet on twitter :D

-----

3/17/15 -- wrist betrayal hiatus
Wrist is fine unless I try to use it for anything whatsoever...sooo improvement? Since it's not really hurting anymore when I just let it sit there uselessly lol... [before it was just constantly hurting/tingling] I'm going to set up an appt with my new doc this week to see exactly where I am with these wrist issues now, cos they are different than the last time I went in.

But yeah, of course this means there is kind of an unplanned hiatus going on now. Real sorry about that, but obviously, can't be helped :(

If you are on Facebook, I suggest following the d*s FB page and enabling notifications from it like so:


...since it's the easiest place for me to update without having to use my comp [my setup is not very ergonomic], and you'll probably hear about any update news there first.


In other news my birthday is on Friday... uh, yay. 8(




I don't get depressed very easily but the #1 sure way is to take away my ability to draw. So scuse me while I go lay on my face uselessly some more. See y'all when I see ya.

[but for real tho...d*s fb page]

-----

3/10/15
Hey guys, I just wanted to give a heads up, I probably won't update this week. My wrist has been acting up lately and I was trying to take it easy, but I think the current page did it in [it was deceptively intense to work on lol]. I was waiting to see if it felt any better today before saying anything, and while it does feel a bit better, it's still sort of alternating between achy and numb, sooo... I think I need to give it a rest for the week, not tempt fate, etc lol. Thanks for understanding :C And really sorry... the timing on this is awful I know ._.;;;

EDIT:
My friend just launched his kickstarter for Snow by Night, and I'm contributing a SbN-themed commission for one of the higher tiers. Check it out!



----


hey there's no words again

also OOPS PARTY POOPER AT 3 O CLOCK

alsoalso after seeing this resized and on the web, i notice something i coulda done with the panels that i didn't do. hmmm.. THERE'S ALWAYS PRINT EDITS.


so still no word from the one person on their fanart, so i'll just post the others i got! [click for their sitesss]



I...think I had a couple more but they're not in my fanart folder...so if I forgot you, msg me x_x; [but maybe i am thinking non-d*s stuff tho cos there has been a handful of that as well]


IN OTHER NEWS
Plume be doin a kickstarter right now! She already hit goal but THERE ARE STRETCHGOALSSSSS so check it outttttt



[threw this banner together outta crap i found on her website -- so if it looks bad, don't blame her, blame me lol]


Current Incentive:



Wondering what Kou's up to right now? Vote to find out 8D