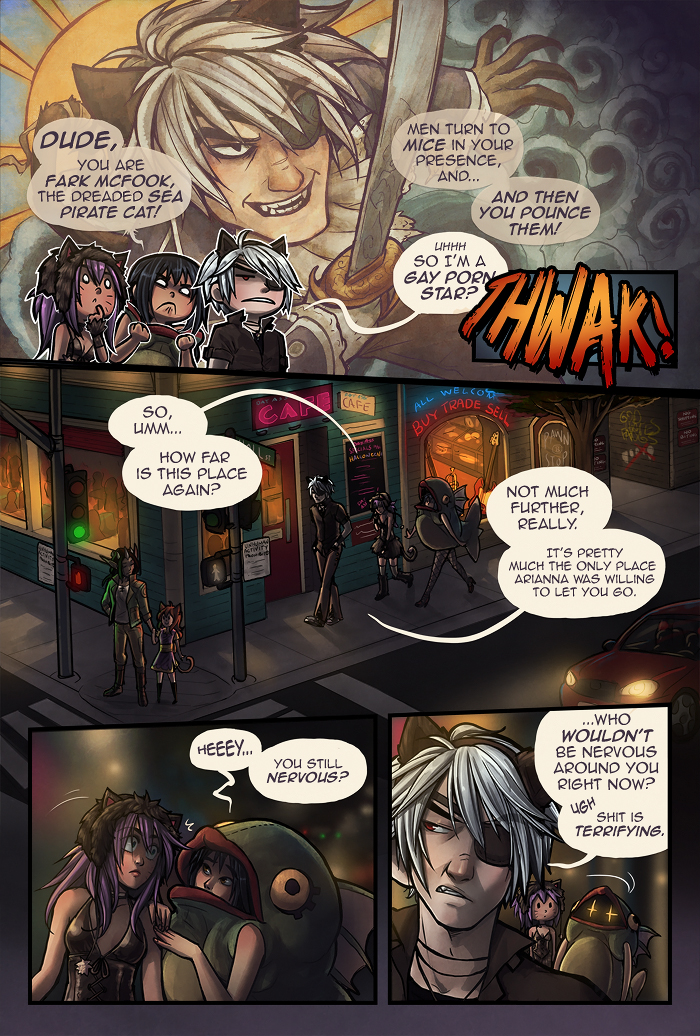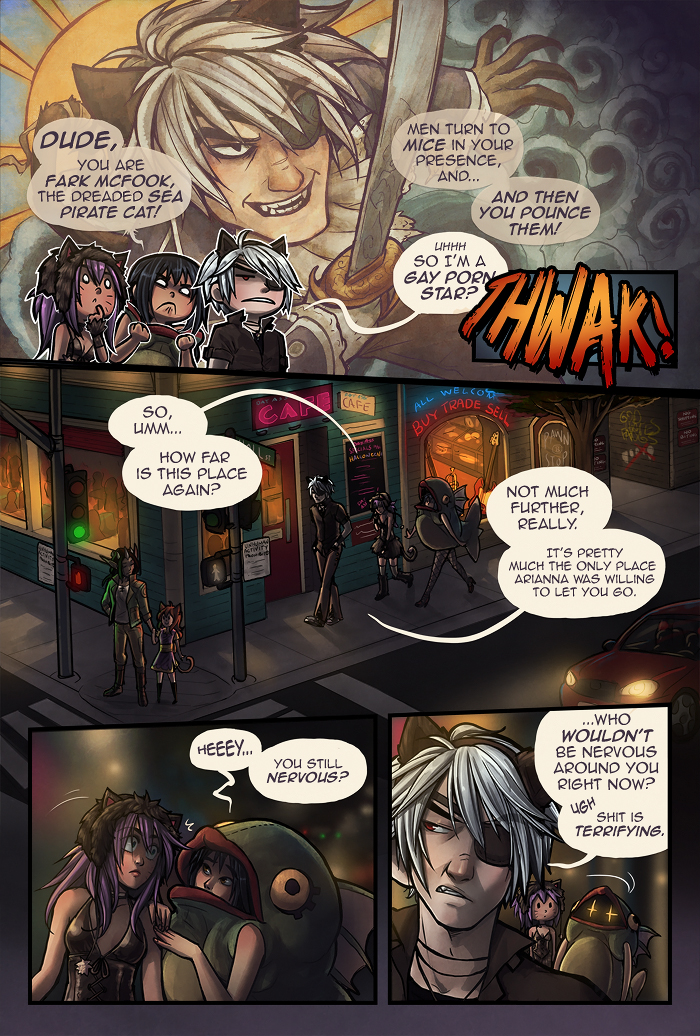 chapter 10: page 5
2014-10-30 19:49:55
Man, Kou, you need to get your foot out of your mouth, these things never end well for you.

Fun[?] Fact: This chapter used to be called 'The Legend of Fark McFook'... I changed it since I've had a theme of naming the chapters after songs. But maybe someone should write a song about this guy...he sounds like a super neat guy. [be sure to mention his weapon, which is the legendary tempest blade 8D]

FANART:


[click the pic for bigger + my art reply to it lmao]


ALONG WITH THAT I ALSO I FOUND A BUNCHA FANART BY ACCIDENT THIS WEEK


[click the images to go to their full-view/unclipped versions!!]

WTF tho I found more art than just these looking through DA's dream*scar tag and WHY DOESN'T ANYONE SAY ANYTHING. I am always overjoyed when ppl draw my charas WHYYy would you hide them from me //whine xD



OKAY IT'S PIMPIN' TIME:


[i made a last minute banner for this, blame me if it looks funny, not her haha]
Thane of Chirault just started her very first kickstarter! I have no doubt she'll hit goal and then COMPLETELY BLOW IT AWAY cos she's a damn boss and she underestimates her badassery. PLEASE SHOW HER HOW WRONG SHE IS by either pledging @ the kickstarter or just showing your support by reblogging her post on tumblr~ :D

[speaking of chirault, kiran and teeko make a cameo in the middle panel!]



SPIDERFOREST COMIC OF THE WEEK!
This week is What It Takes!



Colbey is a martial artist who survives the end of the world. Armed with knowledge, experience and a machete, she is searching through what's left for a man named Peter Wolfe.

A post apocalyptic comic that DOESN'T use zombies? Sign me up! This comic is one of my favourite weekly reads and I remember on my first read through having trouble taking breaks haha. Colbey is such a badass but also still very feminine in a way? It's hard to describe. And the reason for the world being in such collapse is so fucking terrifying to me xD [i won't spoil it for ya] Kez is a great writer, both of story and dialogue, and her art is really expressive, even in simple monochrome. If you aren't reading this comic yet, gtfo of here and read it now. 8D





Current Incentive:



I kinda blew my wrist out this week doing next week's page [there's a lot of background...] so my planned halloween art never get made...:'( So instead here is the next page as it sits right now. [...can you see why my wrist is dead? lol]
[edit: TWC is being a butt and won't let me update the vote bait right now... i'll try again later.]