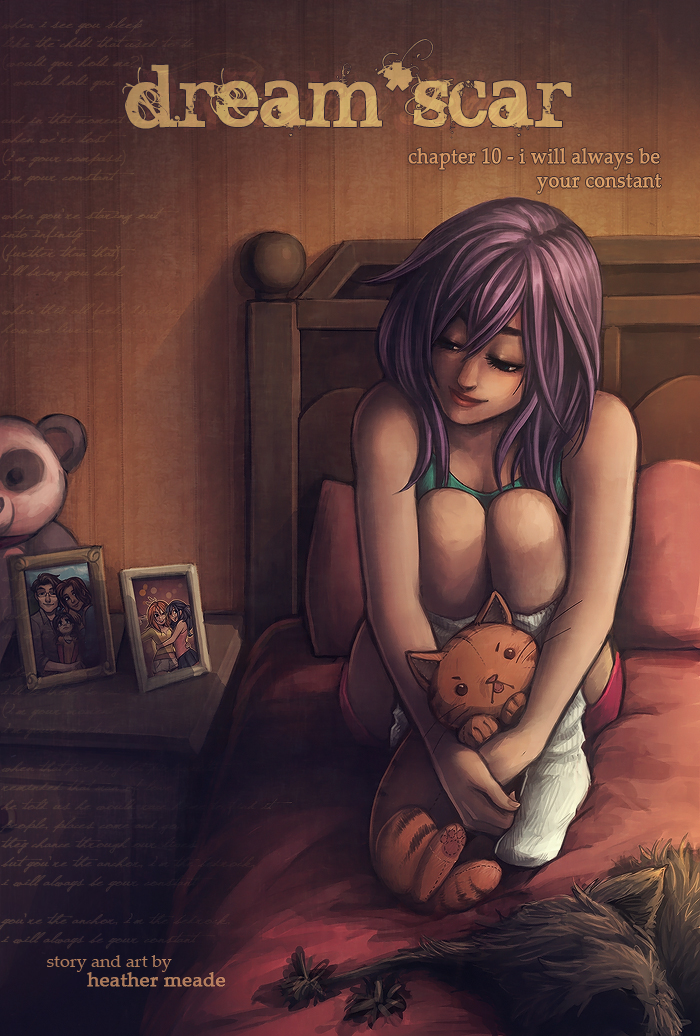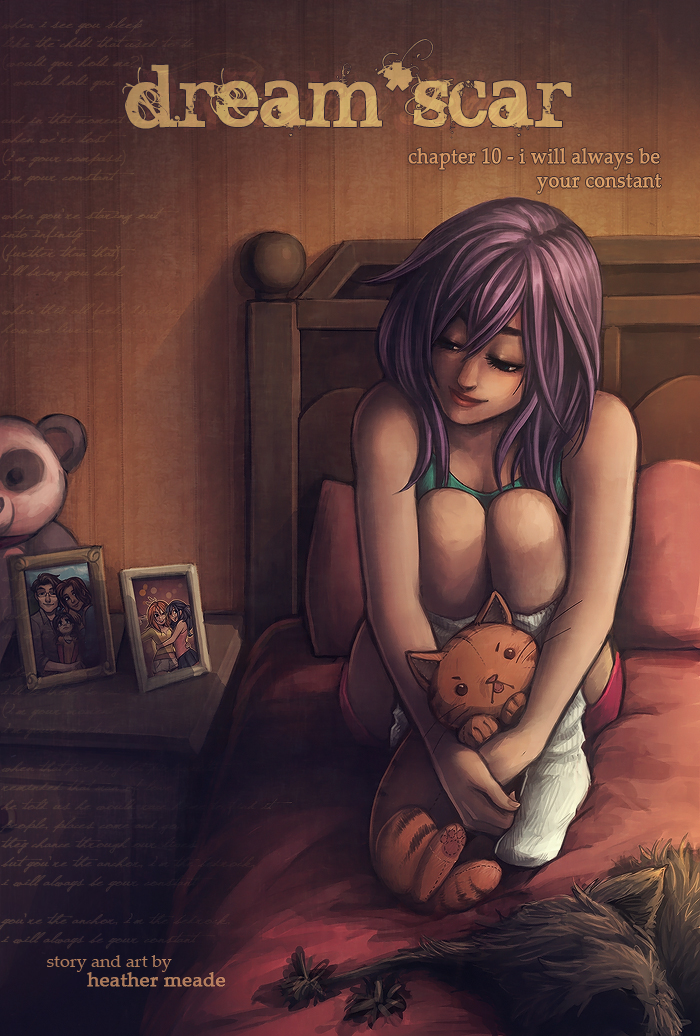 chapter 10: i will always be your constant
2014-10-02 21:52:51
Hey guys, welcome back!!! I missed you! :C! I bring you chapter 10, which is named for the Leitbur song of the same title! I will be using their songs a few times throughout this chapter, with their permission :) Please check out their other music as well, and consider buying some, especially in light of Jaron's recent run in with cancer [hospital bills be a bitch and a half, i know]... they could use all the help anyone is willing to offer :)

Anyway, this is gonna be a pretty lighthearted chapter. I know the comic has sort of thrived on drama up to this point, but I think the charas are kinda due for a break. That said, this is not a filler chapter... just throwing that out there lol.

As for the fruits of my labour during the hiatus...

- I finished my pieces for the monster anthology . You can find my previews over here, the full versions of which will be in the SFW version of the book.

- I got about 50% of the way thru the vol 1 edits. If you kept up with my posts on FB/tumblr, you'll know I ran into some sizing/bleed-space issues, but I didn't mention the amount of contrast tweaking I was having to do after seeing a test print of chapter 1. Like wow, the early chapters needed a lot of contrast adjustment lol... I will continue to edit the pages when I have free time, but it will be slow going. I intend to take another month-ish long hiatus after chapter 10 to finish up whatever else needs to get done for book 1.

- The Kickstarter obviously hasn't happened yet xD I know a lot of projects will begin a kickstarter before their final product is finished, but I'd rather wait til I have all the art ready to go, so I can have a better idea for a delivery date to you guys. Just makes more sense to me that way...


In other news, after the SPX prints announcement, I had a lot of people emailing me about how else they could get a hold of prints... I DID NOT KNOW YOU GUYS WANTED THIS KINDA THING SO BADLY. I intend to shop around to find a good place to get prints made. If you guys have any artwork you'd like to see printed, d*s related or not, lemme know!

I am also considering making charms/keychains cos I see these a lot and I would kill to have one cos goddamn yes forever d*S KEYCHAINS. I have a couple places in mind that I could get this done, just need to make art for them xD [or maybe repurpose those coaster chibis....we'll see]

I'm also considering a Patreon! I've had a few people ask about this, and I've seen a lot of fellow webcomickers using this thing. If you've never heard of Patreon, it's basically a way to donate monthly to a creator, in appreciation for what they do, and usually there are patron-only rewards. [chirault & what it takes are two examples just from the spiderforest collective]

But yeah, it's pretty cool! I signed up for one but I haven't really done much with it yet...mostly cos I am not 100% sure what sort of goals I should put in, or what my reward tiers oughta be haha... Tho I figure one would be access to thumbnails as I finish them? Seems like something y'all could enjoy... and I guess one of the goals could be ad removal, but I've found some nice comics thru there, so I'd be sad to see it go haha... but I'd get rid of the ads if that's a thing you guys wanted. Lemme know, I guess!


Anyway, thanks for being patient guys! You are seriously wonderful readers :C Thank you for just being so fucking great LIKE REALLY ghdsgshj god




Last but not least... it's that time again! The SPIDERFOREST COMIC OF THE WEEK!! Bam pow!

We start off with Supervillainous!



Supervillainous follows the misadventures of the Crimson Claw, a supervillain who also happens to be a dad. But which is the harder job, really...? This strip is really fun and good to read if you are in need of a laugh.




Current Incentive:



The thumbnails for the next page, sans dialogue.