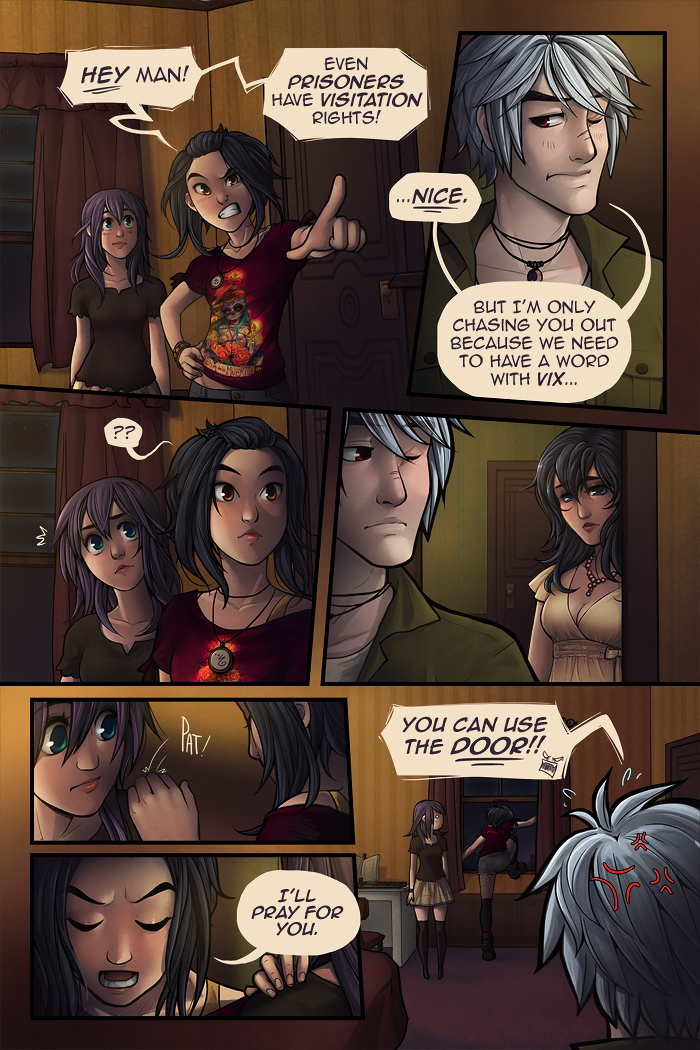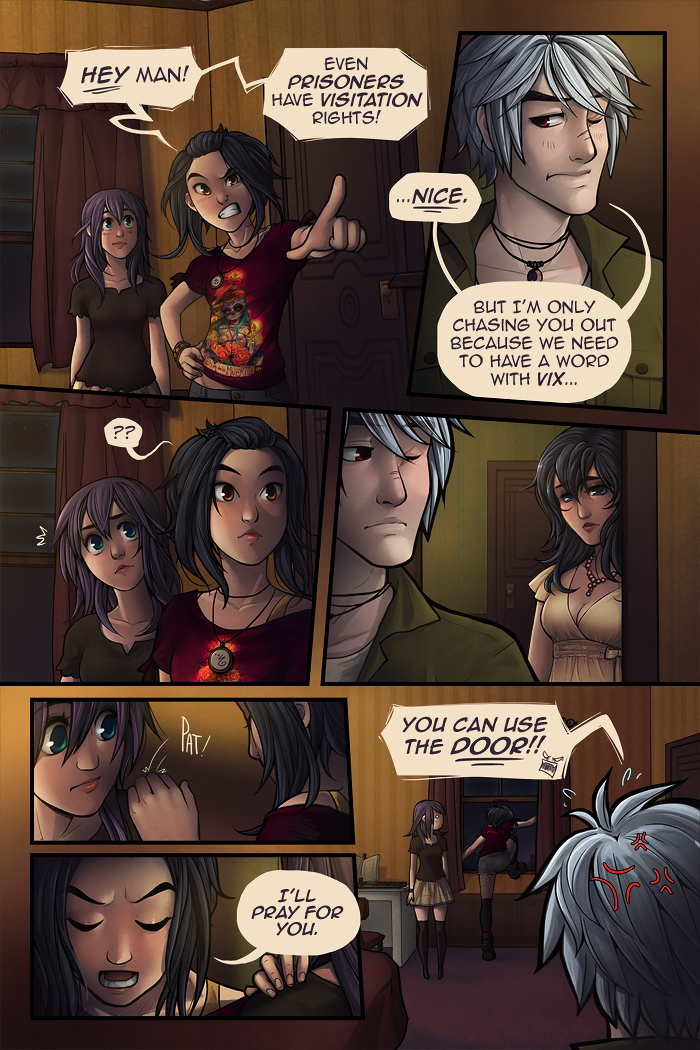 chapter 9: page 11
2014-01-17 13:43:03
ARLISS NO DON'T LEAVE /fallonfacesobbing

Also I'd like to point out that scenes with Kou and Arlie together are probably my favourite scenes ever lmao. They play off each other so well xD

AWRIGHT so a heads up, in case you missed it on the facebook page, THERE MAY NOT BE A PAGE NEXT WEEK -- if not, the week after I will post two pages.

WHY??

Cos the page freaking depressed me so much that I spent ages on it, and I don't want that page on the front of the site for a whole week!

To be fair, the page may not even be a big deal to most people -- [minor spoilers] it's just a page with some yelling between Vix and Ari, but I am A HUGE MAMA'S GIRL and so that was super hard for me to draw LOL. So like I said, maybe not a big deal to everyone else, but fhdsfhsdk I JUST CAN'T DEAL OKAY GUYS i can't lmao.

Now that you know the reason, if you think you'd be okay with that page, then lemme know... I can still just keep to the normal post schedule xD; But a lot of people on facebook seemed okay with the skip week/2 page update later idea... [they didn't really know the reason yet tho haha]

Otherwise, the plan was to post the next 2 pages on the 30th[thursday] and the 31st[friday] e_E; I was thinking a Tuesday/Friday update like olden times, but I'd rather just kinda do them them rapid fire lol.

SO LEMME KNOW YOUR OPINION. I can still keep to the normal schedule if y'all would rather. Up to you guys in the end. I can do either way, I was just concerned it would be a downer, like the whole Andre/Vix scene. xD



SPIDER FOREST COMIC OF THE WEEK
This week is Lapse!




Lapse is about a young woman, Bianca 'Bean' Fortune -- she lives in a house full of ghosts and, after an accident, she finds herself thrown in with them! The story follows her and one of the resident ghosts as she tries to reuinite with her still living body, all the while being pursued by an monstrous dark spirit.

This comic is still pretty new so it shouldn't take you long to catch up! It's a damn good read, the art is really expressive/animated and the characters are extremely likeable~ I really love how she colours the world and characters differently once Bean passes into the spirit side of the world too :C~

Anyway please give it a read!




Current Incentive:



A peek at the next page [of the one panel i actually enjoyed working on haha]...mostly done, still needs some effects and textures, but I moved onto the page after it cos I was tried of looking at it!! lol