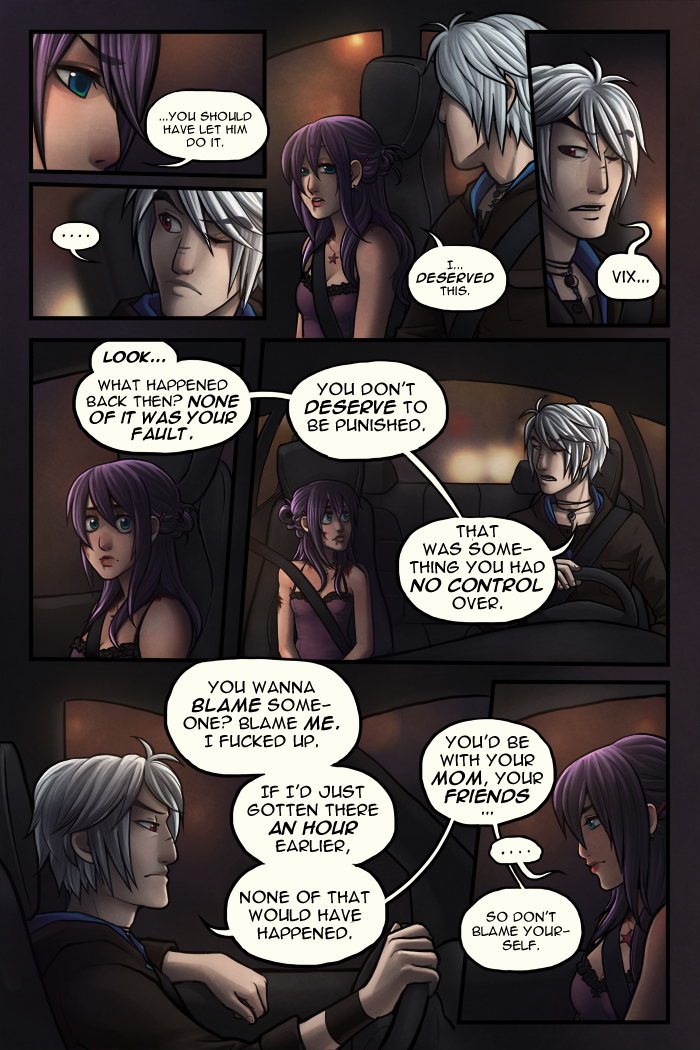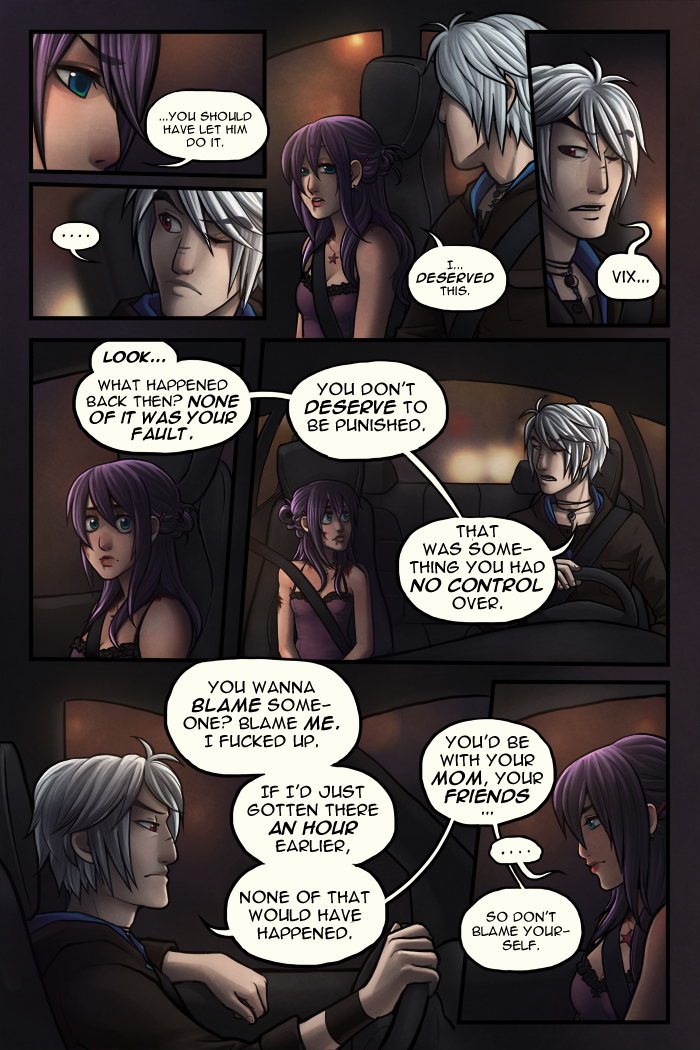 chapter 7: page 41
2012-06-14 20:44:11
I feel like I could have replaced a lot of the dialogue on this page with giant ANGST ANGST ANGST text and it wouldn't seem too out of place. Tone it down, you two!

If you check the d*s facebook page every so often, you might have noticed me talking about my wrist acting up again. Yes, one of the many joys of pregnancy is that it can aggravate things like carpal tunnel and tendonitis. Woot! I spent most of this week resting my drawing hand, tho I will admit I snuck in some thumbnail sketching cos, hey, I was out of thumbnails to work off of and it needed to be done, not to mention I feel useless if I don't pick a pen up at least once a day lol. But thumbnailing is easy, fluid work, so it didn't bug me too much. [other than that, pregnancy is still treating me relatively well. :)]

I only have one more completed page in my buffer at the moment, tho, so if my wrist isn't up to it, I might have to post the unfinished sketch pages after that. Just wanted you guys to have a heads up lol. If it comes to that, I will let you know when I've updated those sketch pages with full colour. xD

Also I should mention the baby popping hiatus again, since it's only like a month or so away [still not sure when the exact date ought to be]. Baby is due mid August, so it will probably be early August, or perhaps if I feel up to it, I'll just post up til my due date! XD The shitty thing is, either way, I am not certain I will complete this chapter by then, so I might post the sketches for the rest of the chapter during the hiatus, just so I can get to a nice stopping point for you guys. Better than nothing, right?

I know a lot of people were interested in sending me fancomics/fanart for during the hiatus as well, so if you are interested, have at it. Try not to make them wider than 700px, if you do [tho i can always resize them for you]. I still don't have an email set up for d*s related email, but I'm gonna see about having Josh set one up for me later tonight, so I'll have him edit the post for me, or I'll announce it on twitter/FB. EDIT: [email protected]

The Spider Forest comic of the week is Willow's Grove!



Life in a small town is not what you expected... Willow's Grove is a small town in north-central Pennsylvania where the dead don't leave. In fact, they like to hang around and continue to participate in their community. Join life-long friends Max, Bob & Fred as they live amongst all things paranormal...

WG's archive is unforgivably long haha. There is a handy little story-arc menu right here -- the creator suggests a decent starting point is Vol 8, tho, so give it a go.






Current Incentive:



Pinup for my friend, Deni, over at Darwin Comics of her character Miranda from her Only Half series, hanging out in her lingerie and being generally a sexy fanged gal... this is actually the picture that set my wrist off haha. Anyway, there are some detail shots and also the sketch included, just to make things interesting, I suppose!